Ahhh..the fantasy football sleeper pick. Don't you just love the satisfaction of coming across a player that has just recently turned heads and made a consistent impact on your team? Whether by drafting that late-round pick that you decided to stash for late in the season or when you come across that gem on the waiver wire paying immediate dividends, there is no feeling in fantasy football like knowing that you got the upper-hand on all the competitors. It seems like every year that a new star is born in the NFL whether it's Kareem Hunt and Alvin Kamara from last year or Patrick Mahomes from this year. However, these are some players that are on the fringe of household stardom. Players that are a few plays away from being talked about every week next to the water cooler at work. Here are ten big-time fantasy players that will be big time names soon. The bigger the name, the lower that they will rank on the list. The bigger the current fantasy impact mixed with a small name, then they will rank higher  (All fantasy point stats will be done through the ESPN PPR scoring model).
*These stats are current through Week 11*
10. QB- Jared Goff(Los Angeles Rams)
2018 Stats: 68.4% Completion Rate, 3,134 Passing Yards, 22 TDs, 6 INts, 215.6 Fantasy Points
Jared Goff is already rising to stardom quicker than I can write this list. He ranks last on the list because he's arguably already a big name by now. However, he qualifies for the list because most pundits feel that Jared Goff's success is a product of his head coach Sean McVay's system. Nonetheless Goff ranks third in the NFL in fantasy points and has run the offense to perfection. His biggest game came against a stout Minnesota Vikings defense where he was spectacularly masterful with the football as he threw for 465 yards and 5 TDs. It may be way too late to have him as your main QB if you haven't picked one up…through ten weeks of season but if you can get him, get him.
My Analysis: 
Goff is a quite capable QB who is not only comfortable in the system put plays way much better than a mere system QB. This season he has made some incredible deep throws and only seems to get better. He is MUCH more than a QB that just "runs the system", Jared Goff has numbers that are rivaling the best in the league right now.
9. WR- JuJu Smith-Schuster(Pittsburgh Steelers)
USA Today FTW
2018 Stats: 56 Receptions, 762 Receiving Yards, 3 TDs, 153.5 Fantasy Points
For the same reasons Jared Goff was low on the list, JuJu also suffers the same fate from The Dollars And Sense Sports Blog list. This only means that Smith-Schuster is already practically a huge name right now. The second receiver for the Steelers definitely has its benefits. After a successful rookie campaign last year, JuJu is already on pace to break the production he had last year. Sitting at 13th in fantasy points, JuJu is rapidly becoming a key member alongside Antonio Brown in a dangerous Steelers offense.
My Analysis:
This kid can go, and literally meaning kid as he is a fresh 21 years old. Despite his age, he plays some hard-nosed veteran football, throwing huge blocks like Hines Ward used to do with the Steelers back in the days of the late 90s to 2000s. One can argue that he's shown more maturity than his teammates in his early career. Runs really good go routes but is even better at making tough possession catches to move the chains. The Steelers have a budding star on their hands, they would be wise to see that.
8. K- Wil Lutz(New Orleans Saints)
Pro Football Talk-NBC Sports
2018 Stats: 19/20 Field Goals(95.0% Success Rate), 33/34 Extra Points(97.0% Success Rate) Longest FG: 54 Yards, 102 Fantasy Points
Wil Lutz has a BIG leg. Kickers normally don't get the credit that they deserve but when you have a kicker as good as this one in the Saints high-powered offense, you give him all the respect that you can. A huge problem of his last year would be the fact that his ball had a very low trajectory when he kicked it making him susceptible to blocked kicks. He's seemed to correct this problem very well as one can argue that he is the second-most important piece to that explosive offense because of his ridiculous success rate. Oh yeah, and he's also the #1 kicker in ESPN Fantasy, might wanna grab him while you can as high-ranking kickers are usually still available on the waiver wire. Some free advice: Never take the kicking position for granted.
7. RB- Aaron Jones(Green Bay Packers)
PackersNews.com
2018 Stats: 84 rushing attempts, 534 rushing yards, 5 rushing TDs, 16 receptions, 141 receiving yards, 1 receiving TD, 90.2 Fantasy Points
Aaron Rodgers may not be the only Aaron that matters on this team. Aaron Jones has jolted on the scene after a huge 27.3 PPR performance against the Seahawks. The question for the Packers season was that if they would have a consistent running game this year, and it would appear that Jones has answered that question with back to back 25+ point performances. Jones has 5 total TDs in 4 games from weeks 8-11 and if the Packers are smart, they will continue to feed him more and more carries.
My Analysis:
Jones is a highly gifted runner with some incredible one cut ability. He may lack burst, but he possesses some suitable second-level speed to break away from defenders. Jones is one of those running backs that can dominate a game if given around 20+ carries, it would help take a lot pressure off of Aaron Rodgers and would make that Packers offense even more complete. I can see Aaron Jones being that next good 2-3 year Packers running back.
6. RB- Matt Breida(San Francisco 49ers)
Sporting News
2018 Stats: 113 rushing attempts, 632 rushing yards, 15 receptions, 124 receiving yards, 2 receiving TDs, 118.6 Fantasy Points
Matt Breida has taken the 49ers starting gig and has completely run with it(no pun intended). Breida sits at 19th in fantasy points but it can argued that he should have been better. An unfortunate timeshare of Breida, Alfred Morris, and Raheem Mostert reared its ugly head and hampered Breida's fantasy potential. On top of that, Matt Breida has been continuously battling injuries to his ankle, back and knee limiting his ceiling even more. An unfiortunate season-ending injury to Mostert, Morris's low usage as a runner and overall good health has put Matt Breida back into the fantasy driver's seat. Breida has had five straight double-digit weeks from Weeks 2-6 and ended up with a 28.2 point effort in Week 10. That's the impact that a healthy Matt Breida can provide for your team, get him while you can.
My Analysis:
Not much to say here, when Breida is healthy, he possess a good amount of quickness. Also can be a nice weapon out of the backfield. He runs with good discipline, when he sees a hole, he has the burst to hit it extremely well. The return of Jerick McKinnon might hurt Breida's stock, but he has proved himself very well in his absence for maybe his next team.
5. WR- Tyler Boyd(Cincinnati Bengals)
Cincy Jungle
2018 Stats: 52 receptions, 685 receiving yards, 5 receiving TDs, 150.8 Fantasy Points
Tyler is turning into a creator. Sitting at 14th among all wideouts in fantasy points, Tyler Boyd is finally showing that potential in the absence of A.J. Green. Even without Green, Boyd still has five 20+ point games to his credit to go along with 5 TDs. Not to mention Boyd has more 100 receiving yard games than A.J. Green, although Boyd's vertical style of play has more to do with that. Still, this kid is one heck of a receiver that can only get better, definitely worth a trade while A.J. Green is out and his overall injury history.
My Analysis:
Tyler Boyd can make catches, and can make tough catches at that. Boyd always tends to find a way to get open and when he does, he usually gashes a defense for a 40-yard play. He is on pace to shatter his rookie numbers of 54 receptions and 603 yards. Doesn't possess the greatest route running when actively guarded by corners, but he is a killer in zone schemes. His ability in the open field is extremely dangerous as he is faster than most of his matchups and can rack up a lot of yards in space. He is a receiver that is best used in the middle of the field. He may not have his teammate's John Ross speed, but he can certainly blow past the defense for a big gain.
4. TE- George Kittle(San Francisco 49ers)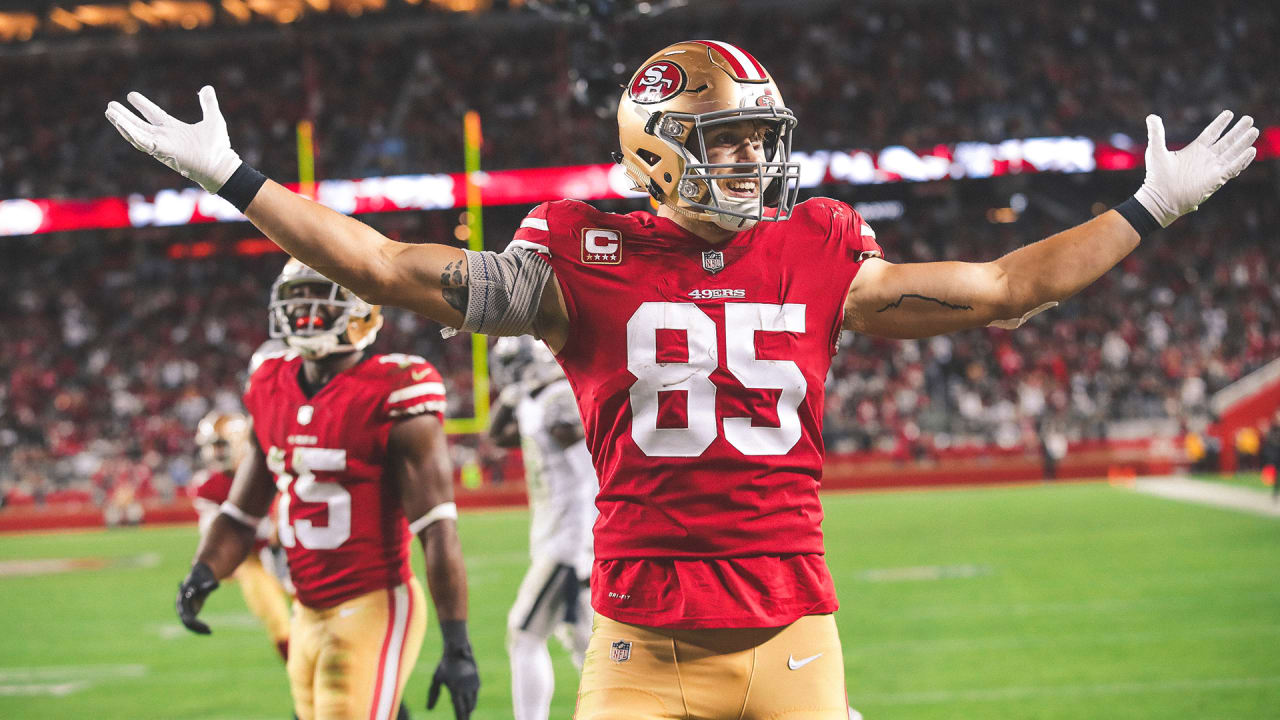 49ers.com
2018 Stats: 50 receptions, 775 receiving yards, 3 receiving TDs, 147.5 Fantasy Points
Who would've thought that George Kittle would be sitting at 3rd among tight ends in fantasy points? The athletic second-year tight end has taken the fantasy world by storm by becoming one of the most reliable options in the NFL in a very shallow position. What makes Kittle so dominant especially in PPR leagues, is the fact that he only has two single digit games and three 20+ point games on his resume. This is even more impreesive considering the fact that he has had to deal with catching passes from three different quarterbacks(Jimmy Garappolo, C.J. Beathard, and Nick Mullens). Another TE that you should have your eye on in the trade market.
My Analysis:
Kittle just continues to make plays. He is one of the most athletic tight ends in the league evidence by some hurdles over defenders. His instincts to work the open space in zones has allowed him to rack up lots of yards no matter the QB. He's battled some injuries early on but Kittle appears to be pretty healthy now. Needs to find the end zone more with only three TDs on the year, but that will definitely change due to the lack of consistent weapons on the roster. Kittle is arguably their best offensive weapon. Should end the year with at least seven TDs
3. RB- Kerryon Johnson(Detroit Lions)
Chicago Tribune
2018 Stats: 103 rushing attempts, 554 receiving yards, 2 receiving TDs, 121.7 Fantasy Points
Finally, The Motor City truly has a motor! Kerryon Johnson has been nothing short of impressive since taking over the starting running back gig. He ranks at 17th in RB fantasy points but would've been higher had he not split time with Theo Riddick, LeGarrette Blount and a now-released Ameer Abdullah in small instances. Only two single-digit games on the year for Johnson signifies that he is basically a must-start player at this point, For what it's worth as well, he also has 17 receptions in four games showing off some good receiving prowess. Definitely worth a grab in PPR leagues.
My Analysis:
Kerryon Johnson is a hard-nosed runner but albeit a nimble-footed one. His cutting ability mixed with some deceptive speed makes him a dangerous asset. Did not think that he would make the impact in the receiving game that he has, but he looks extremely comfortable catching the ball in stride. Not easy for young running backs to do when trying to adjust to the NFL. His offensive line is not great at all, but Johnson uses his natural ability to create space in the first level and then mixes it with his strength and quick burst. The Lions would be smart to use him as much as possible.
2. RB- Phillip Lindsay(Denver Broncos)
Broncos Wire-USA Today
2018 Stats: 110 rushing attempts, 591 rushing yards, 3 receiving TDs, 119.1 Fantasy Points
Phillip Lindsay has become one of the biggest surprises of the NFL. An undrafted running back out of Colorado University, Lindsay was originally behind first-round pick Royce Freeman who seemingly had more of the hype coming out the draft. As Freeman and Lindsay split time, it was becoming clear that the latter was beginning to separate himself from Freeman and would prove to be the more effective runner. Phillip Lindsay only has ONE single-digit game, and only because he was ejected early in a fumble-scrum against the Ravens. The Broncos even give him certain goal-line opportunities which will allow him to build off the four total touchdowns he has on the year.
My Analysis:
Phillip Lindsay is my favorite running back in the NFL. Lindsay is an extremely gifted runner that has that rare ability to make it seem like every carry is going to go for seven or eight at a time. His speed is incredible but he is also extremely strong and stocky which presents problems for defenders because he is also 5'8″. That low center of gravity makes it hard to tackle him and gives him the upper edge in trucking defenders. It's also rare that you see a running back with his stature take runs inside the one-yard line, but Lindsay does it, and even pushes the pile into the endzone with him. This kid is an absolute star and if they gave him the ball 30 times a game, he would be the next Terrell Davis. Book it.
1. QB- Mitch Trubisky(Chicago Bears)

The Ringer
2018 Stats: 65.5% completion percentage, 2,304 passing yards, 19 TDs, 7 INTs, 202.2 Fantasy Points
Mitch Trubisky has finally arrived! It took him a while but he is finally showing that 1st round worth that the Bears invested in him. Through the first three weeks of the season, Trusbisky's highest point game was 14.4 points. Then the Buccaneers happened, and he would go on to throw for 354 yards and 6 TDs with no interceptions. That tallies up to an ungodly 43.5 fantasy points. Since that "coming out game", Trubisky has double digit games in Weeks 6-8 and Week 10. Sitting at 7th in fantasy points among QBs, Trubisky has proven to be an every week starter at this point, especially when you're a team that really needs QB help.
My Analysis:
I have much respect for Mitch Trubisky as he's shown the most natural progression of any young QB in the past few years. He didn't start slinging the ball for 4,900 yard seasons, he didn't throw the ball 70 times a game, he was a QB that took his lumps, trusted the system that Bears coach Matt Nagy put into place and it is paying dividends. This is a perfect example of putting your young QB in a situation that allows him to properly develop instead of completely throwing him into the fire where he has to do so much to make up for a lack of team around (see: Luck, Andrew). Trubisky was noticeably inaccurate through the first three weeks of the season(2 TDs, 3 INTs, 77.8 passer rating), but now we see him trust his feet, his receivers, and a high-octane offensive that is predicated on lots of motions and options to get players open. The result? He is comfortable, so now he hits those throws that he missed early into the season, he makes defenses play differently because he can now hit those throws. He is still shaky at times, but he is shining in a division that contains Matthew Stafford, Kirk Cousins, and Aaron Rodgers and I can confidently say that he is outplaying them all. This kid is a star and it is time that everyone starts talking about him like is one because the scary thing is…Trubisky can only get better.