From Pittsburgh's Savior to Misbehavior: How Le'Veon Bell Decided To Place A Hefty Bet On Himself
(New York Post)
Franco Harris, Willie Parker, Jerome Bettis. Three names that are synonymous with Steelers greatness. Three names that display championship and are revered among the people of Pittsburgh, Pennsylvania. One name that has the claim to fame to be added among that list…is Le'Veon Bell. 5,336 rushing yards, 35 rushing TDs, 2,660 receiving yards and 7 receiving TDs, Bell has proved to be one of the greatest dual threat running backs of this generation. With only four years into his career, he is already solidifying himself as one of the greatest running backs in Steelers history. There is only one problem. He isn't with the Steelers at all at the moment.
Le'Veon Bell is currently out for the season due to a contract dispute with the team. He is currently under his second franchise tag(has not signed) and seems to be committed to maintaining his stance on getting a long-term contract. At this point it is possible that that contract may not come from the Steelers. One has to wonder, how did it get to this point? How did Le'Veon Bell go from the Steelers main thought to the Steelers afterthought. Let's answer those questions as we take a special look into the holdout and the impact that it will have on the Steelers currently and in the future.
Where It All Started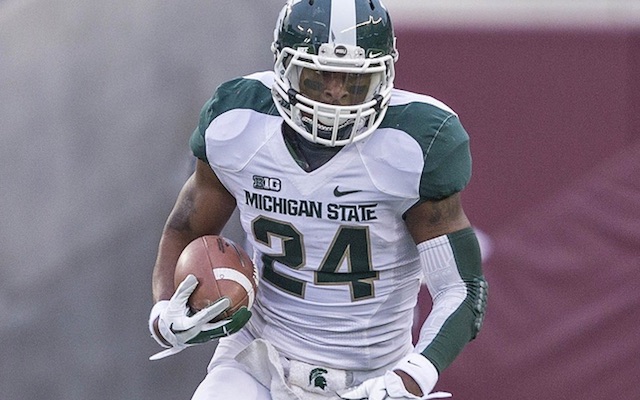 CBS Sports
Le'Veon has been a force since his days at Michigan State University. In his 2012 season, he amassed almost 400 carries in the season and accrued 1,782 rushing yards to go along with 12 TDs. He had three games with 200+ yards rushing and never missed a game showing off some amazing durability. Bell, with his large frame at 237 pounds, showed off the same one-cut ability that he has demonstrated in the pros that he did in college and was a force to tackle. Finding an athlete that was as nimble on his feet with some considerable burst for his size was a rare mix and it paid off very well for Le'Veon as he would become among the career leaders in many rushing categories at MSU. Bell decided to forgo his senior season at MSU for the NFL Draft which he would be selected by the Pittsburgh Steelers with the 48th overall pick.
The Legacy of Le'Veon Begins

(nfl.com)
Le'Veon Bell was drafted in the second round of the 2013 NFL Draft after a successful three-year college career. According to his draft profile on NFL.com, Bell is described as a "Big, bruising back with power in his lower body but lighter feet than you'd expect give his size" and a "north-south runner effective in one and two-back sets. Strong cuts and a nice burst out of them makes him capable of breaking off big runs when the hole is available". With the gift of hindsight, one has to wonder how did a dynamic running in Le'Veon Bell fall so far into almost the third round. The truth is that Bell was not as highly coveted in his early days and even almost joined a small school in a lesser known conference before Michigan State offered him a scholarship. His draft metrics also were not that impressive given that he ran a 4.60 40-yard dash, a number that does not jump off the board in the faces of draft analysts. The 2013 NFL Draft also did not contain a strong overall running back class at the time as Giovanni Bernard of the Cincinnati Bengals was the first RB to be selected with the 37th pick overall(Bell would go on to be the next RB drafted).
Le'Veon would go on to sign a modest contract of 4 years and $4.12 million dollars. In hindsight once again, an absolute bargain for the type of player he would turn out to be. Unfortunately, compared to his expensive franchise tags(more on those later), the price that the team paid for Le'Veon Bell's services are a set price based on draft position. There isn't much room to negotiate especially when the running back market was thin at best in the draft. His contract also included a guaranteed $1.3 million dollars as well as a $97,300 roster bonus in 2014.
(continued on next page)